How do you feel about disease prevention, a natural "face-lift", skin rejuvenation, memory enhancement, improved sense of well being, aid for diabetes control, an endurance aid and tool to fight cancer? It's all in there! I encourage you to research the Shakeology ingredients for yourself but, for your convenience, here is an introduction to them.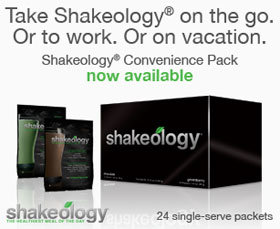 Acerola powder (fruit)
-
Camu-Camu powder (fruit)
-
Pomegranate powder (fruit)
-
Blueberry powder (fruit)
-
Lycium (Goji) powder (berry)
-
Açai powder (berry)
-
Cordyceps
-
Maitake powder
-
Reishi powder
-
Citrus bioflavonoids
-
Rose Hips powder
-
Schisandra powder (berry)
-
Suma powder (root)
-
Gingko powder (leaf)
-
PROBIOTIC BLEND
:
Maca powder (root)
-
Sacha inchi (Plukenetia volubilis) meal
-
Yacon (Smallanthus sonchifolius) powder
-
Flax (seed) meal
-
Chia (seed) meal
-
Hydrilla
-
Apple pectin powder
-
Astragalus powder (root)
-
Blue green algae
-
Spinach powder
-
MSM (methylsulfonylmethane)
-
Pea fiber
-
Quinoa (sprouted)
-
PROPRIETARY ENZYME BLEND
:
Amylase, Papain, Cellulase, Lactase, Lipase, Protease, Bromelain - These enzymes aid in digestion, reduce heartburn problems, gas and bloating, may also dimminish allergies.
Ashwagandha powder (root)
-
Barley grass
-
Kamut grass
-
Oat grass
-
Wheat grass
-
Amaranth (sprouted) (Amaranthus hypochondriacus)
-
Grape seed extract (seed, 95% proanthocyanins)
-
In addition,
procyanidins can improve your vision, the health of your arteries and body tissues (such as the heart), joint flexibility and strengthen capillaries and veins to improve your circulatory system, act as an anti-inflammatory, and scavenges oxygen free radicals. If that was not enough, grapes contain reservatrol, which has proven to contain neuroprotective capabilities
.
Green tea decaffeinated extract (leaf, 50% polyphenols)
-
Holy basil powder
-

Sweetened with Stevia
-
For more information, including video descriptions, please visit:
for the full breakout of ingredients.
(Greenberry also contains natural strawberry and raspberry flavors, while Chocolate contains cocoa and chocolate powder, with natural vanilla and cinnamon powder for flavoring.)